Rob brings over 18 years of industry experience in technology marketing – both direct and channel, to his position at Quadient. Previously, Rob led Marketing at Avaya Canada, go to market for medium businesses at Dell Canada and brings marketing, finance, manufacturing and logistics experience from his time at Maple Leaf Foods. An avid composer and musician, Rob continues to combine digital and social media to drive awareness and consideration in the B2B marketplace. Rob holds an MBA from the Schulich School of Business.

Over the past 12 months, I have had the pleasure of speaking one-on-one with many customer experience executives regarding the difficulties they encounter in bringing their CX plans to life within their organizations.  Unfortunately, many leaders struggle to put their CX plans into practice. In fact, according to a recent report by Harvard Business Review, only 15% of CX leaders rated their organizations as very effective in delivering a relevant and reliable customer experience, yet 73% of business leaders say that delivering a reliable customer experience is critical to their company's overall business performance.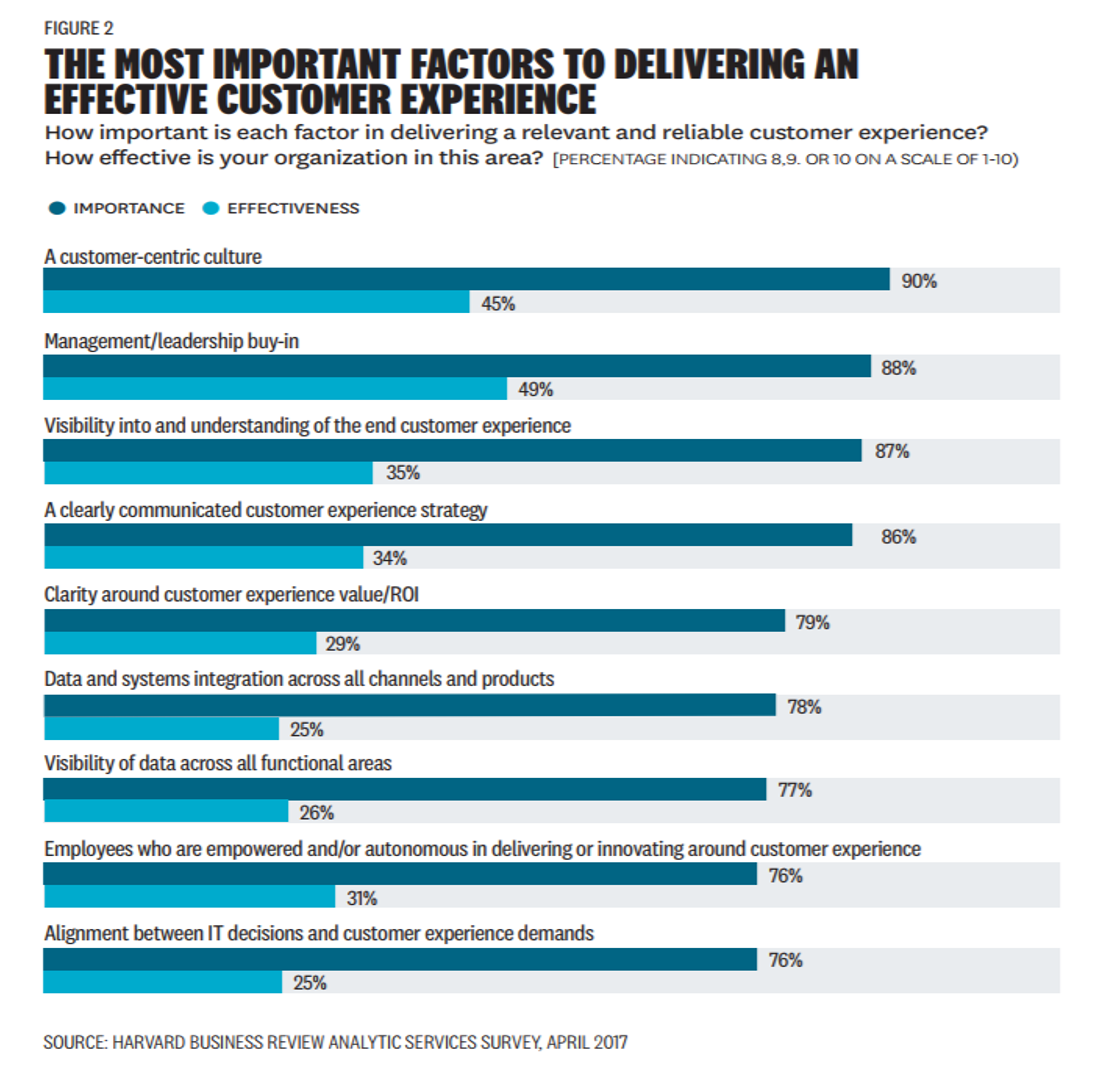 So what is it that makes implementing great customer experience so difficult? Technology? Great design? Solid research? In fact, the findings published by HBR fall precisely in line with the answers that I continue to get from CX leaders.  They continuously re-iterate that the biggest challenge to delivering exceptional customer experience isn't delivering on one individual element of the business, but to focus on creating a customer-centric culture.
But why is a customer-centric culture so important?  I found a potential answer when listening to the (highly recommended) podcast Revisionist History by Malcolm Gladwell entitled "My Little Hundred Million".  In the podcast, Gladwell reviews the works of Chris Anderson and David Sally in comparing the sports of soccer and basketball.  He suggests that soccer is a weak-link sport – where your performance as a team is most impacted by the capability of your weakest players.  In contrast, basketball teams with one superstar can often sustain having many weaker players on the court and still win most of the time – basketball is a strong-link sport.
As a long-time youth soccer coach, this comparison resonated strongly with me.  There are many seasons where I watched other coaches focus their efforts primarily on the development of their top players, while I focused mine on increasing the capabilities of my developmental players.  The results consistently showed as our team progressed to become more and more competitive over time, while teams that were initially strong at younger age groups had difficulty maintaining their competitiveness.
In soccer, the team is much more important than any one individual. I started asking myself - are organizations built the same way?  Do we tend to overvalue strong-links within our organizations and do little to increase the capability of weak-links?  Could employee engagement have a strong impact on CX leadership? If so – what could that mean for the success of customer experience initiatives?
A recent article published in Forbes and featuring the 2017 Temkin Group Employee Engagement Benchmark Study supports the co-relation between employee engagement and CX leadership.  In fact, the study found that companies identified as CX leaders have 60% more engaged employees.
This makes a lot of sense.  As studied in the "CEO guide to customer experience" published by Mckinsey & Company, the average customer isn't going through a number of individual touchpoints that feature only your strongest performers – they are experiencing touchpoints that are influenced by every single individual in your business.  This research points back to what customer experience executives understand at their core.  Great CX isn't a strong-link sport – it is a weak link sport.  
Getting your weakest CX performers to be more customer focused is the fastest path to ensuring that the average customer journey is more impactful.  Enabling more employees to participate and share their expertise into customer interactions and customer communications is the key to elevating your customer experience. Is it possible that the weak vs. strong link may also extend beyond your people?  Next week, I'll examine the potential impact on systems, data and processes that on the surface seam may appear innocuous, but may indeed have the biggest impact on your overall customer experience.