Rob brings over 18 years of industry experience in technology marketing – both direct and channel, to his position at Quadient. Previously, Rob led Marketing at Avaya Canada, go to market for medium businesses at Dell Canada and brings marketing, finance, manufacturing and logistics experience from his time at Maple Leaf Foods. An avid composer and musician, Rob continues to combine digital and social media to drive awareness and consideration in the B2B marketplace. Rob holds an MBA from the Schulich School of Business.

Last week, we compared the difficulty that CX professionals have in creating a uniformed approach to providing great customer experiences with the challenge that coaches face in delivering a uniform performance across the pitch in the sport of soccer / football.
In reading through "The Numbers Game: Why Everything You Know About Soccer Is Wrong", I found it very interesting to see how the authors analyzed the reduction in the number of goals scored per match over time. Their analysis pointed to a greater balance in knowledge, training techniques and qualified personnel between clubs as the reason for the reduction in goals over time.
As soccer teams with fewer resources gained access to better coaching, tactical analysis and training techniques, the traditional powerhouses of the sport began winning games by smaller margins. In short, small teams with less funding were able to close the gap by leveraging best practices over time.
The same disruption is poised to take place in the world of customer experience, where smaller brands will begin to leverage new technologies and processes to make the implementation of customer experience programs easier – allowing them to close the gap with CX super-brands, like Apple, Amazon and Zappos.
In 2017, Forrester identified 4 areas that companies needed to address if they were going to bridge the gap between customer expectations and company capabilities: performance, convenience, personalization and trust. At the time, Forrester identified that companies needed: "An architecture for cross-channel experience delivery. Invest in a new collection of software capabilities, upgrade the aging web and commerce platforms, and build APIs to systems of record in order to deliver at Internet scale on any device in any channel." Unfortunately, the average organization has been unable to deliver in these 4 areas, mostly due to process and data issues.
A recent study by the Harvard Business Review entitled "Closing the Customer Experience Gap" shows that CX laggards are having difficulty creating a single source of customer intelligence to power their multichannel communications. In fact, 3 of the top 4 challenges that businesses are experiencing while trying to bring more advanced customer experience to market are centered around data collection and data quality. These are:
Lack of standardization
Data quality issues across systems
Inconsistent collection of data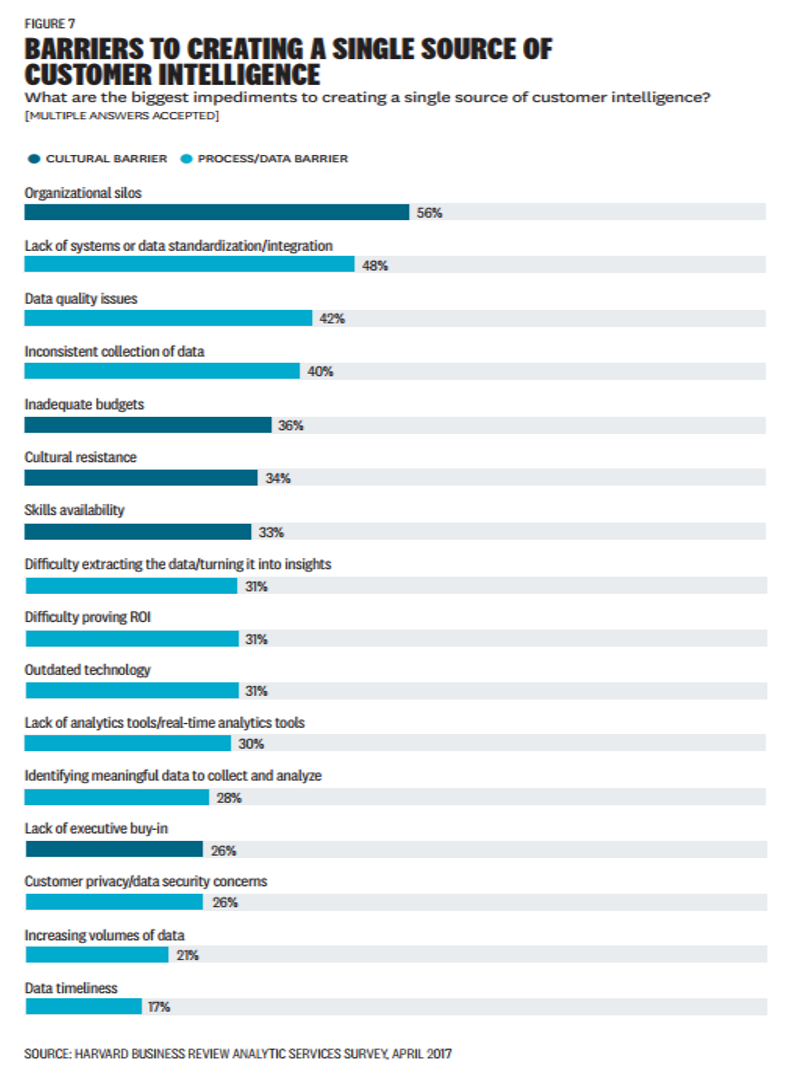 In fact, only half of businesses are using data to anticipate and personalize customer communications. This could be a direct result of the fact that few companies are leveraging the customer data that they have available to them today. Only 20% of companies said they used "most of" the customer data available to them.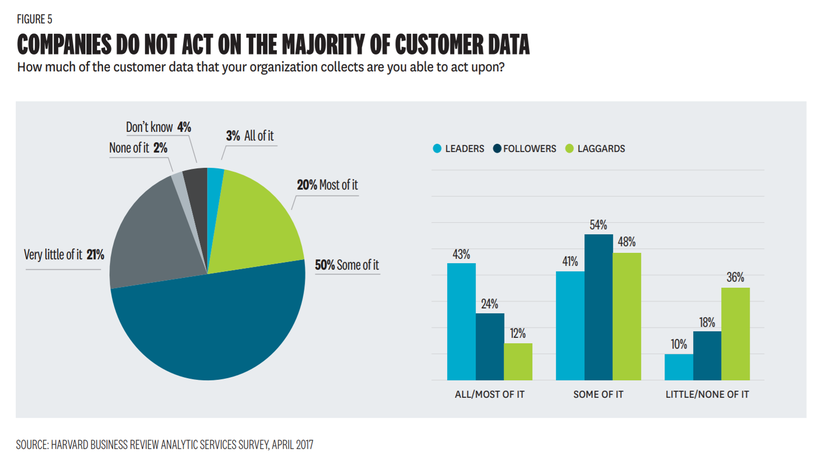 "Data has a clear role to play in developing a superior customer experience— and companies have access to more information on their customers than ever before. Indeed, they are seeing an exponential increase in customer-related data, driven largely by social media, mobile, and e-commerce. But these expanding troves of customer information alone are clearly not driving customer experience improvements—let alone innovation—in the vast majority of organizations." — Harvard Business Review Analytic Services
And only 13% of organizations had implemented a single source solution to create a "golden record" of their customers for use across all products and departments.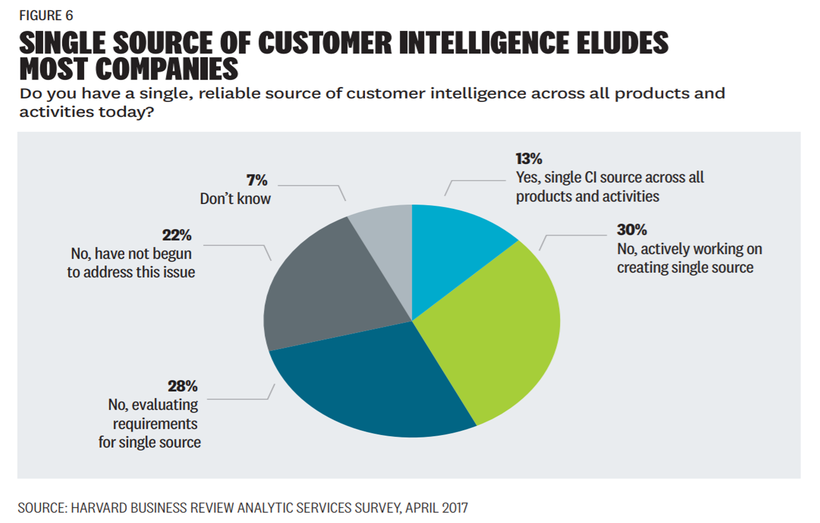 And it isn't just small firms that are struggling to create a single view of the customer that can be used for marketing, customer experience and compliance reasons. A recent survey showed that only 21 percent of banks think their current know your customer (KYC) technology is flexible enough to handle changing regulations rapidly.
The good news for organizations struggling with addressing the CX gaps is that new technologies are making it easier for all companies to create a single, reliable source of customer intelligence, even where legacy technologies have traditionally held companies back. These data quality initiatives can then be paired with automated or streamlined business processes, engaging more of your staff to deliver a superior customer experience. And that's what we'll dive into next time.